Heart's Medicine: Hospital Heat is the third season of the Heart's Medicine series. It released on May 2017.
When the hospital is on fire, Jenny Garcia is in the news, and Allison Heart is trying to get into the hospital, and suddenly, Allison fell down into the burning hospital.
It is also FREE (ad-supported) on mobile devices.
Features
[
]
This is the sequel to Heart's Medicine: Time to Heal, except that instead of just a set of 8 hearts per patient, it has more or less hearts per patient, depending on size. The first game has 3 diamonds per challenge completion, making up to a total of 150 diamonds instead of usually 90.
Introduces new characters, new cutscenes, and more. In the first episode, it has an endless level called "Oliver and friends have taken over!". This requires an iOS/Android device to log in to Facebook to try to beat friends' highscores.[1]
There has a 2 easter egg secret mini-games, such as Allison Fighting game, and Retro Invaders (same as Chicken Invaders series from InterAction Studios).
Cast and characters
[
]
Character
Function
Personality
History
Notes
Allison Heart
Medical Intern
Goes above and beyond for her patients.


Overthinks everything.

After a rough year, Allison is continuing her internship at Little Creek Hospital.

Proven to be persistent and intelligent, she is sure to rise to the top of the medical world.

Is friends with Emily from the Delicious series.
Emily O'Malley
Delicious chef
Adorable girl.
Emily is Co-starred from Delicious series, in the previous game, is the guest starring.
Is friends with Allison.
Jenny Garcia
Weather Girl, News Reporter
The Fabulous Resident


Likes being in a hangout with her friends.

Although Jenny was first appeared in Fabulous, she starred here.


She tracks the news of what's happening in the whole world.

Best Friend Forever of Angela.
Daniel Summers
Head of Little Creek Hospital
Ambitious.


Disorganized.

Daniel is currently missing after struggling with a drug addiction, and indirectly causing the death of one of his colleagues.

Allison and Daniel had feelings for each other.

Son of John Summers and Robin Fisher.
Connor McCoy
Head of Pediatrics (formerly Physiotherapy)
Good with kids, bad with adults.


Tough, but has a soft side.

Connor was there for Allison when Daniel disappeared, and has since become her boyfriend.

He feels he's beaten Daniel in the battle for Allison's affection.

Has had several meetings with HR about his behavior.
Ruth Phelps
Head of the Lab and Pathology (formerly Pharmacy)
Hard worker.


Will do anything for her friends.

Ruth is best friends with Allison, and often knows how to cheer her up after a long shift.

Currently, Ruth has been having some problems of her own, having received a mysterious letter which seems to have upset her.

Keeps losing her guinea pig, Oliver...
Sophia Gomez
Head of the I.C.U (Intensive Care Unit), formerly E.R. (Emergency Room)
Complimentary


Not easily phased.

Sophia lost her husband in an ambulance crash.

Shortly after, she stopped working at the E.R. and switched over to the I.C.U.

Strives to stay strong.
John Summer
Head Diagnostician
Workaholic.


Professional, but an odd-ball.

John is a former head of Little Creek Hospital, but had to step down due to his weakened heart.

John is also Allison's mentor, but it was her who saved his life when he had a heart attack.

Is one of the founders of Little Creek Hospital.
Victor Hamilton
Board member
Profit oriented.


Holds grudges.

Victor is a member of the Little Creek Hospital board.
Father of Mason.
Chance Foley
Head of Prenatal Care, Alternative Medicine, and Maternity Ward
Friendly and calm.


Clumsy.

Chance is good friends with Allison.

He's a quiet character that likes to keep an eye on the wellbeing of his colleagues, but tends to forget about his own.

Is still hoping to have a department focused on Alternative Medicine.
Robin Fisher
Head of Radiology (previously Head of Plastic Surgery)
No nonsense.


Professional.

Although she's the head of a department, Robin is also running the hospital in her son's absence.

This way she hopes to save his job, and hide his disappearance from the board.

Previously married to John Summers, mother to Daniel Summers.
David Quinn
Head of Surgery
Sees patients as numbers.


Vain.

Although Quinn sent Allison away when she first arrived in his department, he has since come to see her potential, and hopes that she will specialize in surgery.
Difficult to work with.
Jenny Pope
Medical Intern
Dedicated student


Optimistic and happy.

Like Allison, Jenny is an intern at Little Creek.


Although she's good at studying, she does not perform well under pressure, and has a history of panicking during emergencies.

Is hoping to go into radiology after her internship.
Michael Owen
Head of the Wards
Enjoys the little things in life.


Dislikes slackers.

Michael was Allison's teacher in the ward.


Allison helped him reconnect with his father.

Takes exceptional care of his patients.
Mason Hamilton
Medical Intern
Narcissist.


Competitive.

Due to an administrative error, Mason was assigned to surgery instead of Allison, and has been smug about it ever since.
Son of Victor.
Mathilda Heart
n/a
n/a
Mathilda is Allison's mother, although they haven't kept in touch.
n/a
Ryan Maples
Teen
Independent.


Closed personality.

Ryan and Allison meet in pediatrics, where he is a frequent visitor because of his ill health.
n/a
Stan Theman
Janitor
Highly intelligent.


Prankster.

Stan has a history of being left out of games, despite clearly being the most important character in the cast.


He will stop at nothing to make an appearance anyway.

Claims to know who broke the fourth wall.
Gameplay
[
]
Summary
[
]
Continuing from the events of Heart's Medicine: Time to Heal, Allison Heart has begun a relationship with Connor McCoy, and is celebrating the opening of the new wing of Little Creek Hospital when her estranged mother, Mathilda Heart, calls Allison. Allison coldly rebuffs her, although both Connor and Ruth Phelps urge her to reconsider, given that Mathilda has now begun treatment at Little Creek. Determined to keep her life stable, Allison returns to her work in Pediatrics, and meets Ryan Maples, a young boy suffering from fever and nausea. Despite her best efforts, Allison's life devolves into chaos as Daniel Summers returns to Little Creek and kisses Allison in front of Connor, adding friction to their new relationship.
Seeking to tell Daniel that she has moved on, Allison goes to his office and meets Victor Hamilton, a member of the board looking to inquire about Daniel's dissappearance, missing drugs, and Allison's assumption of critical responsibilites despite only being an intern. As a consequence, Victor, along with his son Mason, place Little Creek under audit. While publically pledging the full support of the Little Creek staff, Daniel recruits Allison to help cover up the evidence of him stealing drugs to fuel his addiction, futhering the divide between her and Connor.
As the audit continues, Allison and Ryan bond over their similar upbringings, both having grown up with sick moms. Motivated by Ryan's devotion to his mom, Allison goes to visit Mathilda, only to discover that Mathilda is, in fact, Ryan's mother. While initially shocked, Allison quickly reconciles with her mom and gladly accepts Ryan as her new half-brother. Things quickly take a turn for the worse, however, when David Quinn reveals that Mathilda is in hospital for a kidney transplant, and came to Little Creek to gain Allison's consent as an organ donor.
Now in Pathology, Connor, Ruth, and Ryan each advocate that while Allison does not need to consent to become a donor, she should make a decision soon. Allison agrees to undergo the compatibility test, but despite being a perfect match, does not consent to being a donor, angering Ryan. Soon after, Connor breaks up with Allison, angered by the fact she cancelled a date to help Daniel continue his audit cover-up. Ruth eventually convinces Allison to consent to the kidney transplant, citing both her own experience with her aging mother and Ryan's love for his own mother. Allison undergoes the surgery.
A flashback reveals that after Allison's father's death, Mathilda developed a catatonic disorder to cope with the trauma. One day, Mathilda suffers an episode while cooking, leading to a massive fire that consumes both her and Allison. The two are brought by Mathilda's father in law, Donald Heart, to the Burn-Unit at the newly opened Little Creek, run by a young John Summers and Victor. John and Victor rapidly grow apart as Victor advocates for the use of a new burn cream backed by a wealthy pharmaceutical company offering a lucrative advertising contract, despite tests showing the cream could cause respiratory distress. Things come to a head when Victor swaps the cream in secret, causing Allison to experience an allergic reaction that almost kills her. On the day Allison is discharged, John informs the hospital board, leading to Victor having his medical license revoked. At the same time, Mathilda treats Allison to all her favorite activities before abandoning Allison at a diner, having realized that she poses a risk to her own daughter. Donald takes custody of Allison.
Back in the present day, Allison awakens from surgery, and having fully recalled the events leading to her initial abandonment, angrily rebuffs Mathilda's second attempt at reconcilliation, driving Mathilda to leave the hospital. Beginning her work in Prenatal with Chance Foley, Allison rejoices at the though of life returning to normal. Her joy increases as she learns that Sophia Gomez is pregnant with Joe Albright's son, and continues to reconnect with Daniel. As always, the joy is short lived. Victor finds a hidden file detailing Daniel's medicine stealing, thus revealing both his addiction and his attempted cover-up in one go. On the day of the board hearing, Mathilda and Ryan are rushed back to Little Creek after a major car accident. Allison chooses to tend to Mathilda and Ryan, leaving Daniel without support in the hearing. Mathilda is placed into a coma to stabilize her, Daniel is fired, and Victor assumes control of the hospital.
Victor's new leadership has immediate effects. His profit maximization mindset shackles Quinn, who cannot run sufficient tests to figure the cause of Mathilda's negative response to the operation, and burdens Sophia, who is forced to care for an increasing number of patients in the Intensive Care Unit with less equipment. To compensate, Allison gets Daniel, now working at rival Queensburrow Bridge, to run the additional tests for Mathilda. Meanwhile, Victor begins replacing equipment with outdated models, aiming to generate profit by selling the newer models. When confronted by John, he vows to destroy Little Creek, just like John destroyed his career, but not before getting rich first.
After a treatment recommended by the Queensburrow test worsens Mathilda's condition, Ryan suffers a catatonic episode, causing Allison to realize that Mathilda's condition is not psychological, but physical. Analyzing the list of symptoms and triggers, Ruth diagnoses it as advanced Herkin's disorder, meaning that Mathilda would require immediate conscious brain surgery to save her life. As Victor has sold the equipment necessary for the operation, Allison flies via helicopter Queensburrow, while Quinn and Sophia prep Mathilda for the operation. As Sophia closes the ICU for the night, the old equipment Victor reinstalled sparks and catches fire.
In the ensuing inferno, Connor evacuates most of the hospital's patients, while an unconscious Sophia, who had returned to the ICU in an attempt to contain the fire, is carried out by Chance. Allison, having returned from Queensburrow, rushes to the surgery room to operate on Mathilda. As Quinn battles the fire, Allison performs the operation, reconcilling with Mathilda along the way. The operation is successful, but the pair remain surrounded by the fire, which has now consumed the entire operation room. Resigned to their faith, Allison and Mathilda embrace, only for Daniel to break through the wall and rescue both mother and daughter. As Mathilda is loaded into an abulance, Allison thanks Daniel for saving both their lives. The two share a kiss.
In the epilogue, the staff of Little Creek undergo psychiatric evaluation before beginning work at Queensburrow.
Chapters
[
]
Dialogue (Completed!)
[
]
Departments
[
]
Shop
[
]
Allison's apartment
[
]
Minigames
[
]
Trophies
[
]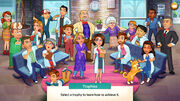 | Name | Description | How to achieve | Image |
| --- | --- | --- | --- |
| Allison Heart | Got all other trophies! | Collect all other trophies! | |
| Chance Foley | You completed your internship at the maternity ward! | Complete Maternity Ward (Levels 31-40) | |
| Connor McCoy | You completed your internship at the pediatrics department! | Complete Pediatrics (Levels 1-10) | |
| Daniel Summers | You bought all the upgrades in every department! | Buy all the upgrades! | |
| Janitor (Stan Theman) | Completed all "clean up" tasks in the game! | Complete all "clean up" tasks. | |
| Jenny Pope | You restocked 250 items! | Restock 250 items. | |
| John Summers | You completed the burn unit flashback! | Complete Burn Unit (Levels 21-30) | |
| Little Girl (Nicky) | You checked out 600 patients with golden hearts! | Check out 600 golden heart patients. | |
| Mason Hamilton | You earned 250 hearts in mini games! | Earn 250 hearts in mini games. | |
| Mathilda Heart | You earned 3 stars in each story level! | Earn 3 stars in all story levels | |
| Michael Owen | You had an item on your tray before someone asked for it! | Have an item on your tray before someone asks for it. | |
| Oliver | You found every Oliver in every story level! | Find all Olivers! | |
| Princess | You walked 40,000 yards! | Walk 40,000 yards. | |
| David Quinn | You finished all bonus levels with at least one diamond! | Finish all bonus levels with a diamond. | |
| Robin Fisher | You got 200 quick checkout bonuses! | Get 200 quick checkout bonuses. | |
| Ruth's Mom | You used the heart booster stations to earn 200 hearts! | Earn 200 hearts using heart booster stations. | |
| Ruth Phelps | You completed your internship in pathology! | Complete Pathology (Levels 11-20) | |
| Ryan Maples | You collected all the diamonds in the game! | Earn 150 diamonds. | |
| Sam | You completed your internship in psychiatry! | Complete Psychiatry (Levels 51-60) | |
| Sophia Gomez | You completed your internship at the Intensive Care Unit! | Complete Intensive Care (Levels 41-50) | |
| Victor Hamilton | You filled up every spot where a patient could stand, sit or lie down, and had at least one person standing at the checkout desk! | Fill up every spot, and have at least one person at the checkout desk. | |
Gallery
[
]
| Screenshot | Trailer |
| --- | --- |
| | |
| Background | Icon |
| | |
References
[
]
GameHouse characters
Delicious Emily
Main cast
Emily O'Malley, Patrick O'Malley, Paige O'Malley, Francois Truffaut, Angela Napoli, Evelyn Napoli, Edward Napoli, Brigid Duffy,

Antonio Napoli

,

Kate O'Malley

Delicious 2

Marcello Napoli

,

Ziggy

,

Norma

,

Freddy Fries

Delicious: Emily's Tea Garden

Hank

,

Brad

,

Hung Yao

,

Alphonse

,

Evelyn Sleezley

Delicious: Emily's Taste of Fame

Betty

,

Bill Tyler

,

Larry/Elvis

,

Mo

,

Tashi

,

Charles

,

Matthew

,

Ludwig Green

,

Ted Dorton

,

Maggie Tyler

Delicious: Emily's Holiday Season

Richard Green

,

Paul

,

Aldo

Delicious: Emily's Childhood Memories

Hunter

, Stacey, Andy
Delicious: Emily's True Love

Jimmy

,

Jean-Paul

,

Carmen

,

Carlos

,

Fresco

,

Philippe Durand (Franise)

,

Amelie

,

Nadia

Delicious: Emily's Wonder Wedding

Paddy O'Malley

,

Officer Jackson

,

Reverend Baylor

,

Flannery

,

Gillon

,

Desmond

,

Ashling

,

Iris

Delicious: Emily's Honeymoon Cruise
(Add characters here)
Delicious: Emily's New Beginning

Dainton Wu

,

Santa Claus

Delicious: Emily's Home Sweet Home
Sharon Stepford, Grace Miriam Stepford,

Martin Henriques

, Billy Beauford, Billy Beauford Jr., Aaron Mahoney, Marissa Mahoney, Enid Templeton, Earnest Templeton,

Samantha Beauford

, Moon Blossom, Hemingway,

Sun Lotus

Delicious: Emily's Hopes and Fears
Allison Heart, John Summers, Daniel Summers, Connor McCoy,

Mack

,

Rusty

,

Chuck

,

Tapeesha

,

Little Monk

,

The Monk

,

Head Monk

Delicious: Emily's Message in a Bottle
Gino Napoli, Marco Napoli, Vinicio Napoli, Vittorio Napoli,

Filippo Napoli

,

Arabella

,

Bianca Napoli

,

Zoey

,

Ziggy

,

Parsley

Delicious: Emily's Christmas Carol

Mary Claus

, Jenny Garcia,

George

,

Holly

,

Bradley Williamson

,

Myra

,

Amanda

,

Olivia Williamson

Delicious: Emily's Miracle of Life

Tina

, Gina,

Susan

, Andy, Mary-Lynn, Stacey,

Britney

, Dr. Goldman,

Elaine

Delicious: Emily's Moms vs Dads
Nora,

Bob

, Chad Stepford, Mike,

Abigail

,

Sam

Delicious: Emily's Road Trip

Tully Anderson

,

Alfred (Alfie) Anderson

Fabulous Angela
Main cast
Angela Napoli, Jenny Garcia, Kitty Jackson, Virginia Hills
Fabulous: Angela's Sweet Revenge

Jimmy

,

Yum-mee

,

Sally

,

Killian Murray

Fabulous: Angela's Fashion Fever

Cindy

,

Peter

,

Magic Max

,

Lori

, Celine,

Viola

,

Bruna

, Victoria,

Yuna

,

Truly

,

Eric

,

Bob

Fabulous: Angela's High School Reunion
Emily O'Malley,

Chloe Morgan

, Evelyn Napoli, Edward Napoli,

Fran Handford

,

Janet Morgan

,

Principal Morgan

,

Matt Miller

,

Mrs. Stanhope

,

Keith Miller

Fabulous: Angela's Wedding Disaster

Sebatian Worth

,

Caroline

,

Yuki Nishimura

,

Josh Erwin

Fabulous: Angela's True Colors

Noémie

,

Michelle

Fabulous: Angela's New York to LA

Kelly Harper

Heart's Medicine
Main cast
Allison Heart, Daniel Summers, Connor McCoy, Ruth Phelps, John Summers, Chance Foley, Robin Fisher
Heart's Medicine: Season One
Brie,

Gabriel Holt

Heart's Medicine: Time to Heal
Emily O'Malley, David Quinn, Jenny Pope, Joe Albright, Sophia Gomez, Michael Owen, Mason Hamilton,

Lisa Asher

,

Princess

,

Mr. Asher

Heart's Medicine: Hospital Heat
Victor Hamilton, Mathilda Heart, Ryan Maples, Donald Heart, Aubrey Nakama, Sam,

George

,

Leon Vinson

,

Olivia Robinson

Heart's Medicine: Doctor's Oath

Freddy Morris

,

Lee Ermey

, Ulrika Acker
Cathy's Crafts
The only game
Cathy Bradford,

Fred Bradford

,

Ivy Bradford

, Emily O'Malley, Paige O'Malley,

Kendra

,

Mark Duffy

,

Rohann Bosch

,

Donatella Satori

,

Chloe

,

Patty Clavell

,

Lilia Rochette

,

Ming

Mary le Chef
Mary le Chef: Cooking Passion (the one and only)
Mary Vanderworth, Emily O'Malley,

Richard Vanderworth

,

Topsy Vanderworth

,

Jennifer

,

Peter

,

Steve

Dr. Cares
Main cast
Amy Cares,

Lisa Fox

, Crystal Upton,

Newton

, Jack Hawkins
Dr. Cares: Pet Rescue 911
Emily O'Malley, Paige O'Malley,

Regina

,

Killian Murray

,

Jasper Kingsley

,

Sherman

, Patrick O'Malley
Dr. Cares: Amy's Pet Clinic

Walter

,

Samantha Berenger

, Jenny Garcia
Dr. Cares: Family Practice

Alice Cares

The Love Boat
Main cast
Adam Bricker, Burl "Gopher" Smith, Captain "Merrill" Stubing, Isaac Washington, Julie McCoy
The Love Boat: The First
Angela Napoli, Emily O'Malley, Henrik "Henry" Boden, Stacey Skoggstad, Aubrey Skoggstad, Brad Brockway, Sandy Rytell, Lorraine Hoffman, Ronald "Ron" Baker, Jenny O'Brien
The Love Boat: Second Chance
Sally Milligan, Francois Truffaut,

Buddy Stanfield

,

Ellen Edwards

,

Helen Edwards

,

Denise Fredericks

,

Bert Fredericks

Sally's Salon
Main cast
Sally Milligan, Francois Truffaut

Sally's Salon: The First

n/a

Sally's Spa

n/a

Sally's Studio

n/a
Sally's Quick Clips
n/a
Sally's Salon: Beauty Secrets
Francois Truffaut, Emily O'Malley, Patrick O'Malley, Paige O'Malley, Angela Napoli, Allison Heart, Evelyn Napoli, Edward Napoli, Jenny Garcia,

Roxie

,

Len

,

Zea

,

Juan

,

Julio Iglesias

Sally's Salon: Kiss and Make Up

April

,

Helen

,

Nathan

,

Finn

,

Britney

,

Hugh J. Rump

,

Tilly

,

Rachel

,

Vincent

Maggie's Movies
Main cast
Maggie Welles
Maggie's Movies: Camera, Action!

Bill Welles

,

Diego Martinez

,

Vicki

,

Ted Summers

,

Clyde

,

Catherine

,

Frank

,

Michael

, Susan
Maggie's Movies: Second Shot
(TBA)
Mortimer Beckett
Main cast

Mortimer Beckett

Mortimer Beckett and the Secrets of Spooky Manor

Jerome Beckett

Mortimer Beckett and the Time Paradox

n/a

Mortimer Beckett and the Lost King

n/a

Mortimer Beckett and the Crimson Thief

n/a
Mortimer Beckett and the Book of Gold

Kate O'Malley

Hometown Poker Hero
(the only)
Angela Napoli,

Jimmy

,

Tony Grimaldi

Parker & Lane
Parker & Lane: Criminal Justice
Lily Parker, Victor Lane,

Chief Vasquez

, Stella Duvall,

Danny "Bucket" Carrell

,

Daisy Lane

Parker & Lane: Twisted Minds
Andrew Parker

Hotel Ever After

Hotel Ever After: Ella's Wish
Ella Centola, Abigail Centola,

Luciano Centola

,

Sandra

,

Jason Bernard

Amber's Airline
Amber's Airline: High Hopes
Amber Hope, David Withsley, Elise Derno,

Clark Simpson

,

Susan Hope

,

Justin

,

Pamela Idalgo

, Kyle Thompson,

Adrian Baker

, Karen Scottfield,

Hank Patterson

, Emily O'Malley, Allison Heart
Amber's Airline: 7 Wonders
Angela Napoli, Jenny Garcia

Unsung Heroes

Unsung Heroes: The Golden Mask

Ivy Yeh

,

Stephanie Eagleton

,

Diana Naranjo

,

Xi Niu

Primrose Lake

Welcome to Primrose Lake
Jenny Carlyle, Jessica Carlyle

Welcome to Primrose Lake 2

Welcome to Primrose Lake 3

Detective Jackie

Detective Jackie: Mystic Case

Jackie Johnson

Glamorous Kate (doesn't exist)
Glamorous: Kate's Wedding Journey

Kate O'Malley

Julie's Sweets

The only game

Julie Adams

Baking Bustle

Baking Bustle: Chef's Special

Ashley

,

Scott

Baking's Bustle: Ashley's Dream

Barbarous

Barbarous: Tavern of Emyr

Barbarous: Tavern Wars

Claire's Cafe

Claire's Cafe: Tasty Cuisine

A Tale for Anna

(The only game)
Anna

First Responders

The Only Game
(TBA)
Gardenscapes
Main cast

Austin

,

William

,

Olivia

Gardenscapes: The First

Gardenscapes: Mansion Makeover

Gardenscapes: 2

Gardenscapes: New Acres

Homescapes